Sarasota Real Estate – Condos for Sale
If you are dreaming of a maintenance-free lifestyle in a beautiful community, let us give you a tour of Sarasota condos for sale. Whether you wish for a view of sunny beaches, glistening waves, golf course greenery, gulf coast boats, or country and cityscapes, Sarasota has condo communities to suit everyone's needs.
Want to walk to downtown arts and culture? Or want to fish from a private pier? At Florida Lifestyles for Sale, we are here to help you navigate the many choices in Sarasota real estate.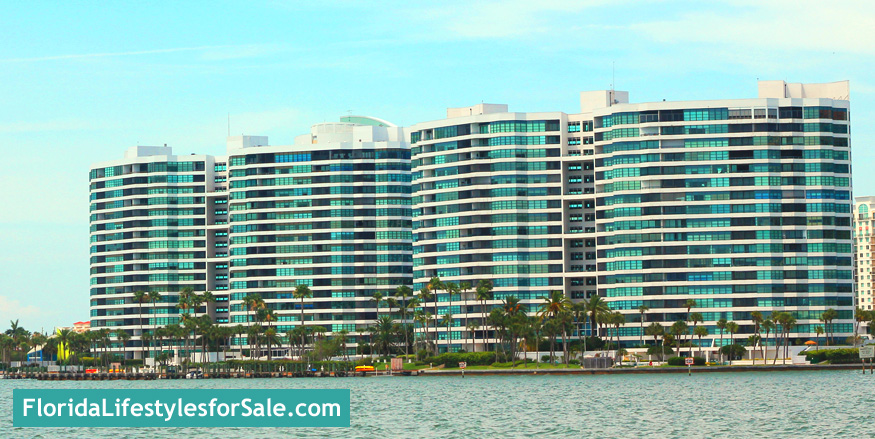 Sarasota condos for sale include:
Luxury, high-rise condominiums in downtown Sarasota
Sarasota beach & waterfront condos for sale
Sarasota golf & country club condos for sale
Sarasota resort condos & townhouses for sale
Condos, villas & townhouses in gated communities
Eco-friendly "green" condos for sale in Sarasota
Sarasota downtown condos for sale include:
100 Central @ 100 Central Avenue, Sarasota, Florida, 34236
1350 Main @ 1350 Main Street, Sarasota, Florida, 34236
Alta Mer @ 306 Golden Gate Point, Sarasota, FL 34236
Alinari atRosemary Place @ 800 North Tamiami Trail, Sarasota
Bay Plaza @ 1255 North Gulfstream & 1282 Palm Ave., Sarasota
Beau Ciel @ 990 Blvd of the Arts, Sarasota, Florida 34236
Broadway Promenade @ 1064 North Tamiami Trail, Sarasota
Cityscape at Courthouse Centre @ 1990 Main St., Sarasota
Condo on the Bay @ 888 & 988 Blvd of the Arts, Sarasota, Florida
Embassy House @ 770 South Palm Avenue, Sarasota, Florida 34236
Essex House @ 707 South Gulfstream Avenue, Sarasota, Florida 34236
Frances Carlton @ 1221 Palm Avenue, Sarasota, Florida, 34236
Golden Bay @ 166 Golden Gate Point, Sarasota, FL 34236
Grande Riveria @ 420 Golden Gate Point, Sarasota, FL 34236
Gulfstream Towers @ 33 South Gulfstream Ave., Sarasota, Florida
Harbor House @ 174 Golden Gate Point, Sarasota, FL 34236
Harbor House South @ 400 Golden Gate Point, Sarasota, FL 34236
Harbor House West @ 226 Golden Gate Point, Sarasota, FL 34236
Hudson Crossing @ 888 South Orange Avenue, Sarasota, FL 34236
Kanaya @ 505 South Orange Avenue, Sarasota, FL 34236
La Bellasara @ 464 Golden Gate Point, Sarasota, FL 34236
Majestic Bay @ 258 Golden Gate Point, Sarasota, FL 34236
Marina Tower @ 1233 North Gulfstream Avenue, Sarasota, FL 34236
One Watergate @ 1111 North Gulfstream Avenue, Sarasota, FL 34236
Plaza at Five Points @ 50 Central Avenue, Sarasota, FL 34236
Phoenix @ 136 Golden Gate Point, Sarasota, FL 34236
Regency House @ 435 South Gulfstream Avenue, Sarasota, FL 34236
Renaissance @ 750 North Tamiami Trail, Sarasota, FL 34236
Ritz Carlton @ 1111 Ritz-Carlton Drive, Sarasota, FL 34236
Rivo at Ringling @ 1771 Ringling Boulevard, Sarasota, FL 34236
Royal St. Andrew @ 555 South Gulfstream Avenue, Sarasota, FL 34236
Sarabande @ 340 South Palm Avenue, Sarasota, FL 34236
Savoy on Palm @ 401 South Palm Avenue, Sarasota, FL 34236
Sunset Towers @ 11 Sunset Drive, Sarasota, FL 34236
Tessera @ 500 South Palm Avenue, Sarasota, FL 34236
Vista Bay Point @ 128 Golden Gate Point, Sarasota, FL 34236